Capacitive Humidity and Temperature Probes
RHT10E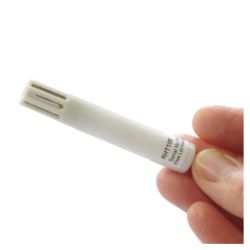 The RHT10E is a cost effective, compact and robust RH and temperature probe for use with Eltek GenII transmitters (the probe is not suitable for other applications).
The sensor is housed in a replaceable protective cap with a non-removable stainless steel (grade 316) 100 micron dust filter.
The RHT10E is intended for indoor, non-condensing applications. The RH and temp sensor is removable thereby permitting exchange or calibration.
The lead is non detachable and can be ordered at a user-specified length from 1m up to 10m.
Specification
Dimensions
(probe and protective cap)
Diameter:
10mm
Length:
67mm
Temperature
Range
-30 to +65°C
Resolution
0.1°C
Sensor accuracy
±0.4°C (+10 to +40°C)
±1.0°C (-20 to +70°C)
Relative Humidity (non condensing)
Range
0-100% non condensing
Resolution
0.1%
Accuracy
±2% (10 to 90%RH)
±4% (0 to 100%RH)
Documentation
Datasheets