Mini Squirrel dataloggers
The GenII MS Mini Squirrel is a new series of compact stand-alone data loggers.
The first release of the GenII MS Mini Squirrel series is intended for RH, temperature and CO2 applications.
The dataloggers are of rugged construction, battery operated and ideal for short or long term environmental monitoring.
Common Features
Mini Squirrel is ideal for monitoring smaller spaces such as galleries or laboratories. A feature of the Mini Squirrel is ease of deployment and data download. A top panel mounting jack socket is provided for data download.
The scrolling LCD display provides real time sensor values and screen prompts inform the user that the logger is set up and ready to go as required.
Eltek's Darca Lite Windows software is designed for use with the MS Mini Squirrel, enabling the user to configure, download data, and graph historic data quickly and easily.
A communications lead, type LC99, is required in order to connect the datalogger to a PC. This must be ordered separately.
MS13E and MS14E
RHT10E high spec RH and temperature probe can be placed precisely where needed. MS14E additionally provides two temperature (thermistor) inputs.
MS13E / MS14E
MS47AC and MS47B
Indoor, AC mains or battery operated air quality transmitter with built-in CO2 0-5000ppm NDIR technology, RH and temperature sensors.
MS47AC / MS47B
MS10
Perfect for environmental monitoring. With built in RH and temperature sensors, easy and low cost.
MS10
Accessories
WBG Wall bracket docking kit
This kit enables fitment of the transmitter's built-in wall bracket to difficult or uneven surfaces. The kit provides additional docking security.
The following products are supported:
All GD, GC, GL and GS series transmitters
RP250GD repeater and RC250 receiver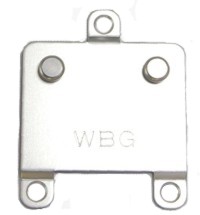 WBG
Common device specification
Operating environment
Temperature: -5 to +55°C, RH: 0-95% non condensing
Environmental rating: IP50
(Secondary enclosure available for outdoor use, rated IP60)
Data storage
Logging interval: 1 second to 24 hours
Memory capacity is expressed in "readings"
One channel enabled is 87,000 readings
Two channels enabled is 104,000 readings
Three channels enabled is 112,000 readings
Four channels enabled is 118,000 readings

Channel allocations can be renamed using Eltek software. For example, Channel 1 can be configured to appear as "Main Gallery"
Number of recording runs: 1
Darca Lite Software
Eltek's Darca Lite software allows configuration, download and analysis of Mini Squirrel devices.
Fully compatible with Darca Plus data
Detailed graphing of saved data
Print graphs
View data in real time
Export data as CSV
Download data with or without stopping logging
Software updates on Eltek website
Input Specification
Model(s)
Sensors
Range
Resolution
Accuracy
MS10
Temperature
-30 to 65°C
0.1°C
±0.4°C (+5 to +40°C)
±1.0°C (-20 to +65°C)
±1.5°C (-30 to -20°C)
RH
0-100%
0.1%
±2% (10 to 90%RH)
±4% (0 to 100%RH)
MS13E
RH (RHT10E)
0-100%
0.1%
±2% (10 to 90%RH)
±4% (0 to 100%RH)
Temperature (RHT10E)
-40 to +120°C
0.1°C
±0.4°C (+5 to +40°C)
±1.0°C (-20 to +80°C)
MS14E
RH (RHT10E)
As MS13E
Temperature (RHT10E)
As MS13E
2 x external thermistor temperature
-40 to +70°C
0.1°C
±0.2°C (-15 to +40°C)
0.2°C
±0.4°C (-29 to +65°C)
0.3°C
±0.6°C (-36 to +70°C)
0.4°C
±0.8°C (-40 to -36°C)
MS47AC / MS47B
RH (RHT10E)
As MS10
Temperature (RHT10E)
As MS10
CO2
0-5000ppm
3%
±50ppm
Documentation
Product datasheet