News
Online graph viewer
In response to current users of its Darca Heritage 2 software, Eltek has developed an online graph viewer which graphs exported CSV data from a Darca Heritage 2 site. Because Darca Heritage 2 includes functionality to automatically update site data (and export it) as soon as its measured by the datalogger, the data in the online graphs is always current. Users can access the online graphs using their smartphone or tablet as the only software required is a web browser.
The graph viewer is an enhancement to Darca Heritage 2 and is free of charge.
Time selector jumps to recent day / week / month
Alarms are plotted as colour bands on the graphs
Cursor tool shows numerical data at the point the mouse is hovering
GenII systems for tilt and crack measurement
Eltek has developed and field-tested the following solutions for monitoring tilt and crack using the GS44 transmitter and third party sensors:
GS44cfTLT Transmitter - 4 x inputs for Soil Instruments C12 inclinometers
GS44cfLDT Transmitter - 4 x inputs for Penny & Giles SLS130 Linear displacement sensors
GenII External Temperature Transmitter Type OD04
The OD04 is an IP65 rated polycarbonate enclosure with self powered GD04 transmitter and thermistor temperature probe. The enclosure is provided with 4 fixing holes that are obscured when the cover is fitted.
GD-93A M-Bus transmitter configured for use with Landis and Gyr T230 heatmeter(s)
The GD-93A transmitter with M-Bus interface is part of the Eltek GenII family of transmitters. When used with the Landis+Gyr T230 heatmeter, the GD-93A provides precise heatmeter and additional values. The combination offers significantly higher resolution than other instruments making the combination ideal for study and research purposes. Up to 3 x T230 heatmeters can be connected to the GD-93A simultaneously.
GenII mini weather station
The OD43JS (wall mount) and OD43JSPM (pole mount) are IP65 rated polycarbonate enclosures containing a self-powered GD43JS transmitter, Stevenson screen and RH/temperature probe. The transmitter has inputs for:
RH/temp probe
External temperature
Voltage (for a pyranometer)
The voltage input can be used with Skye instruments SKS1110 or Kipp and Zonen CMP3 pyranometer. The OD43JS enclosure is provided with 6 fixing holes that are obscured when the cover is fitted. The OD43JSPM is fitted with a 25mm diameter pole adapter.
GW transmitter series with discreet white finish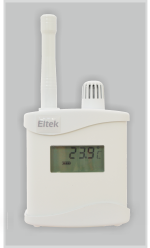 In response to requests from the museums sector for an additional transmitter colour scheme, the GC10, GD10, GD24 and GD34 transmitters are now available with a discreet white finish. The suffix 'W' is added to the transmitter name when ordering to indicate this.
GenII systems for conservation and scientific research
The protection of important archaeological and heritage sites will involve the analysis of complex environmental factors in order to understand the potential causes of degradation. Eltek GenII telemetry datalogging systems have been used in key heritage sites to undertake research into potentially damaging environmental conditions and ensure preventative action can be taken to protect these sites for the long term future.
A datasheet is available which outlines two applications where research is taking place using GenII systems: The Ħal-Saflieni Hypogeum, Malta, and Canterbury Cathedral in the UK.
Systems for monitoring the built environment
Eltek recognises the growing need for accurate proof of the efficacy of new building materials, techniques and post occupancy studies of buildings, from domestic residence to large developments. As a result our data logging systems have evolved to meet these criteria and provide the ideal solution.
A datasheet is available which outlines the ways in which the GenII system meets these needs.
Eltek at the Energy Event 2013
Eltek's stand at the recent Birmingham NEC Energy Event 2013 was extremely well attended with a great exchange of information and the generation of a good number of leads for us to follow up.
The purpose of the Energy Event is to inform energy professionals about new strategies and technologies which can reduce costs, comply with legislation and ensure secure energy supplies. Eltek has recently added new products to its range which are designed for these very applications.
Our reason for exhibiting at this event was two-fold: to get a first-hand view of the development of this market sector and to determine if Eltek's current offerings are a good fit. Inevitably, as a new entrant to this market, we have a lot of work to do to better establish ourselves as a niche professional supplier of temporary energy monitoring systems.
The good news is that Eltek was well recognised at the event with positive feedback from those who visited. Whilst we were there we took part in lively exchanges about what we could additionally bring on board, product and services-wise, to make ourselves a preferred supplier.
Creating and attending to an exhibition stand is an expensive exercise and can be a risk as traditional exhibition footfall is lower these days. However, this exhibition proved successful for us to the point that we could well be at the Energy Event 2014.
If you wish to know more about our Energy monitoring systems please do not hesitate to give Mike, Lucian or Robin a call.
An animation designed for The Energy Event showing the types of energy-related sensors which an Eltek GenII Telemetry System can collect data from.
Tools for viewing data from Eltek GenII receiver / loggers online
A new datasheet has been created which illustrates the various methods which exist for accessing the data from your Eltek GenII system over the internet.
Compost monitoring system introduced
The recently introduced Eltek compost monitoring system is designed for batch tunnel in-vessel composting systems which can process various materials such as kitchen waste, green waste and organic fines. It is field proven within demanding, corrosive and moist environments.
Click here for a datasheet containing full information about the product.
New transmitters now available
The following new transmitters are now available:
Published 23/04/13
New 651 datalogger now available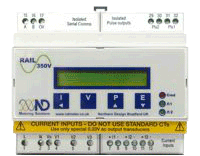 The Squirrel 651 datalogger is specially designed for use with the Northern Design ND350 (1 x 3 phase load) and ND310 (3 x single phase load) energy meters. A maximum of two ND350s and one ND310 can be connected simultaneously to the logger. Up to 68 channels of values can be recorded. The 651 communicates with the ND350s or ND310s at RS485. Ideal for temporary or permanent installation.
Published 23/04/13
New source of downloadable datasheets and user instructions
All Eltek product datasheets and user instructions are now on the website for viewing / downloading. Visit the support page or look under the 'Download' tab of an individual product.
Published 23/04/13